XXI SYMPOSIUM ON RESEARCH IN APPLIED LINGUISTICS &
III INTERNATIONAL SYMPOSIUM ON LITERACIES AND DISCOURSE STUDIES 2015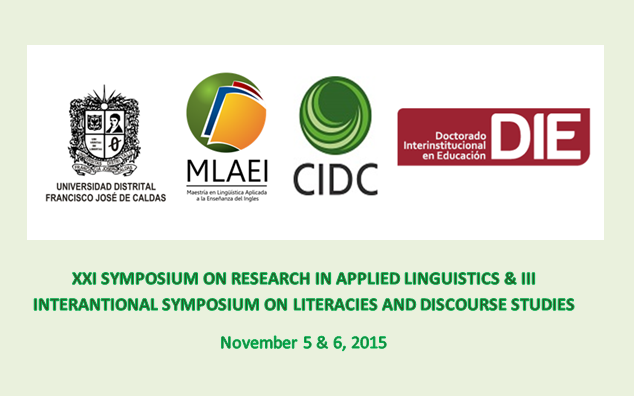 Several academic and administrative units at Universidad Distrital Francisco José de Caldas are responsible for making our XXI SYMPOSIUM ON RESEARCH IN APPLIED LINGUISTICS & III INTERANTIONAL SYMPOSIUM ON LITERACIES AND DISCOURSE STUDIES a real opportunity for knowledge and (co)construction. The Master Programme in Applied Linguistics to TEFL (MLAEI) and the organizing Committee are much in debt to Centro de Investigaciones y Desarrollo Científico (CIDC). Licenciatura en Educación Básica con énfasis en Inglés (LEBEI), Doctorado Interinstitucional en Educación (DIE); these symposia were made possible thanks to the generous financial support provided by them. The organizers also appreciate the publishing houses that joined this academic event.
Our gratitude to Porfessor Margaret Hawkins (University of Wiscounsin- Madison. USA), Professor Gary Barkhuizen (University of Auckland- New Zeland) and Mr. Alvaro Quintero ( Universidad Distrital Francisco José de Caldas) for their contribution to this academic event as keynote speakers.
We acknowledge the effort made by all the local, national and international presenters. They yielded these symposia with a truly honest academic spirit and we are looking forward to future collaborations.
On behalf the Master Programme in Applied Linguistics to EFL (MLAEI) And the Organizing Committee.
Key note speakers
Professor
Margaret Hawkins, PhD
University of Wiscounsin- USA
Professor
Gary Barkhuizen, PhD
The University of Auckland- New Zeland
Professor
Alvaro Quintero Polo, PhD
Universidad Distrital Francisco José de Caldas
International Scientific Committee
Roger Gilabert Guerrero, PhD
Universidad de Barcelona (Spain)
Frances Giampapa, PhD
Universisty of Bristol (United Kingdom)
Jo Mynard, PhD
Kanda University of International Studies (Japan
Danie Marcelo Jesus, PhD
Universidade Federal de Mato Grosso ( Brazil)
Nancy Velázquez- Torrez, PhD
Jonh Jay College of Criminal Justice (USA)
Nara Takaki, PhD
Federal University of Mato Grosso so Sul (Brazil)
Professor E. Wayne Ross, PhD
University of British Columbia (Canada)
Gavin William Fulmer, PhD
National Institu of Education (Singapore)
Organizing Committee
Dr. Harold Castañeda- Peña
Maestría en Lingüística Aplicada a la Enseñanza del Inglés
Eliana Garzón Duarte, MA
Licenciatura en Educación básica con énfasis en Inglés